How to Install Artificial Grass on Old Wooden Decking
May 16, 2023 | Artificial Grass for Homes, artificial grass tips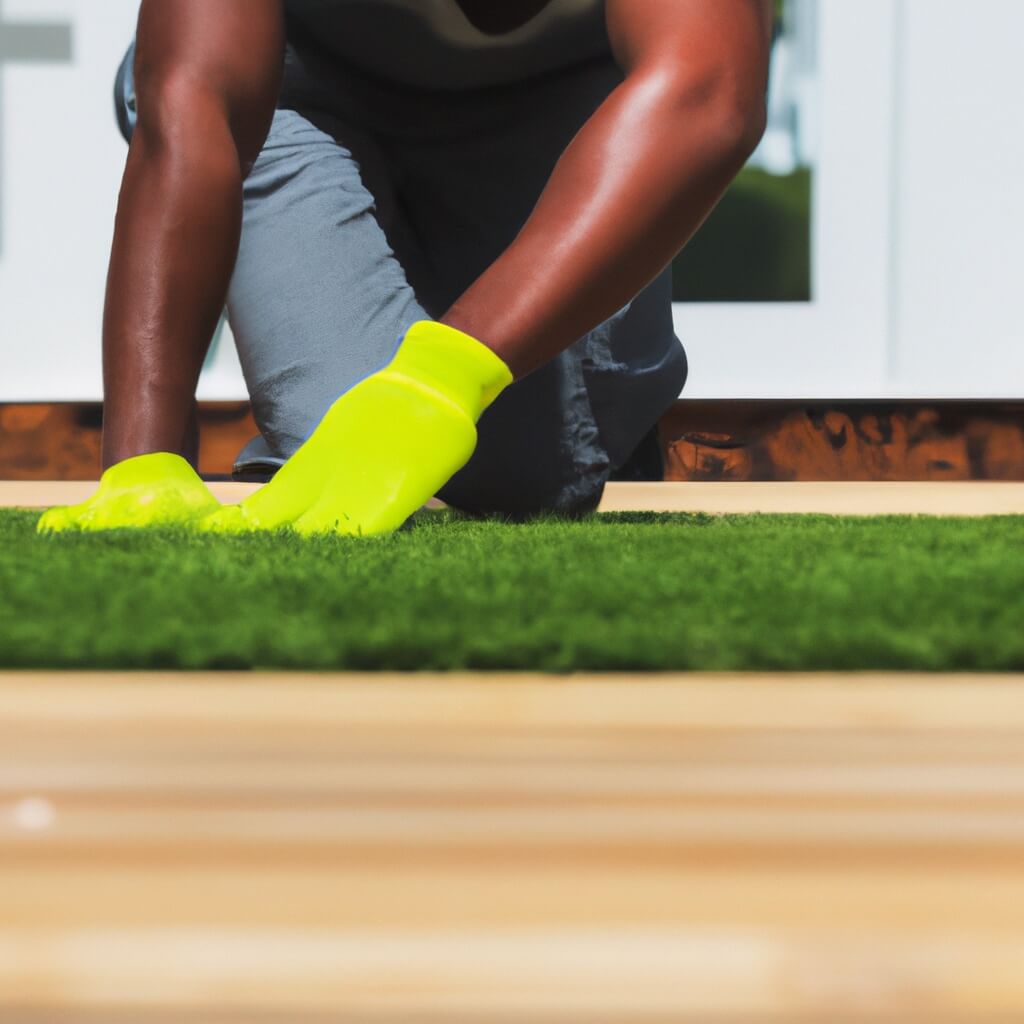 Artificial grass looks great in your backyard, but that's hardly the only place you can lay it.
For instance, if you want to give a new life to an old deck, artificial turf may do the trick much better than good-old refinishing.
Synthetic grass can enhance the feel of a wooden deck by creating a more inviting and relaxing environment while giving your home a new and improved look. It removes many disadvantages of an old wooden deck while keeping the most essential benefits intact.
Let's take a closer look at installing artificial grass on wooden decking.
Can you lay artificial grass on top of wooden decking?
In short, yes, you can put artificial grass on top of a wooden deck when properly installed. Many homeowners choose artificial turf for their decks for several important reasons:
Safety – while attractive and sturdy, wooden surfaces aren't completely safe. They splinter and become extremely slippery after the rain. This can pose a safety hazard to the entire family, especially small children. Artificial grass is just as durable and attractive while being weather-resistant, non-abrasive, and non-slippery

Low maintenance – with time, the wood requires complex maintenance to keep its appearance and integrity. Synthetic grass doesn't need as much care. Brushing turf is much easier than maintaining wood in top shape.

Appearance – artificial turf's lush, green color coupled with blade softness creates a pleasant atmosphere that encourages rest and relaxation. 

Integrity – unlike wood that fades, cracks, and splinters over time, artificial grass is highly durable. Such a deck surface can serve you for two decades with little maintenance.
While professional assistance comes highly recommended, it's possible to Do-It-Yourself (DIY). For that, you would need to do a little pre-installation planning (e.g. drainage considerations) as well as these tools and materials:
Artificial turf

Shock padding/Synthetic underlay

Utility knife (other turf cutting tools, such as box cutter, carpet knife, or big X-ACTO knife can work too)

Artificial grass adhesive/turf glue

Deck cleaning solution

Garden hose

Scrub brush

Tape measure

Seam tape

Lawn roller
Artificial grass is impressively functional. You can lay it on top of wooden decking on rooftops, balconies, and patios. However, you can't put turf directly on the wood without proper installation. You must arrange wooden surface preparation, shock pad installation, and several other nuances.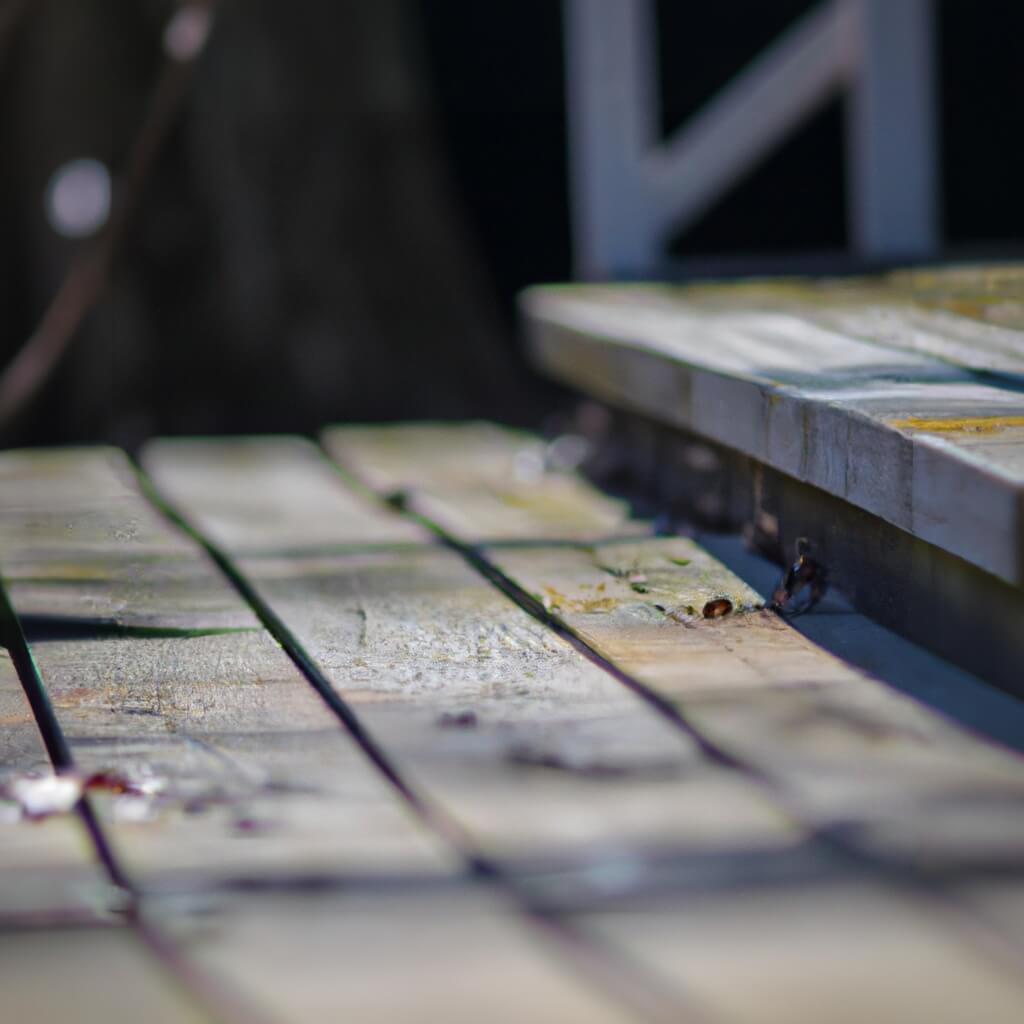 How can you avoid potential problems with synthetic grass on decking?
Laying artificial grass on decking requires a comprehensive approach. While it's similar to artificial lawn installation, it comes with a few unique problems.
Drainage
If you install synthetic turf directly to the decking, you may experience drainage problems. While artificial turf provides some natural drainage, it needs enhancement when dealing with wood. Without proper drainage, the water pools under the grass and causes the wood to soften and rot. This can ruin your deck and contribute to mold growth and many other issues.
To avoid that, you need to install high-quality synthetic grass underlay with drainage holes.
If you are installing the turf on a patio, check the gradient. Properly built decks and patios have a slight slope away from the house. This allows the water to run off the surface naturally.
Uneven Surface
Uneven surfaces can make artificial grass look unattractive. It also makes it hard to install. You would need to prepare the base by eliminating uneven places as well as possible. In some cases, you may need to install new wood.
Secure the edges properly to avoid many other problems with synthetic grass on decking. Otherwise, water and debris can get under the grass and damage the turf and wood.  
What is the ideal underlay for artificial turf on decking?
The ideal underlay for artificial turf on decking is a shock pad. This padding serves two essential purposes:
Shock absorption – this makes your artificial grass softer and more comfortable to walk or sit on. Meanwhile, if your kids accidentally fall on this surface, they are less likely to get hurt than when they slip on wooden decking.

Drainage – shock pad installation can enhance drainage and prevent your wooden decking from deteriorating under the turf.
When you buy artificial turf, consider consulting the provider about the underlay. You can get valuable installation advice with the project's specifications in mind.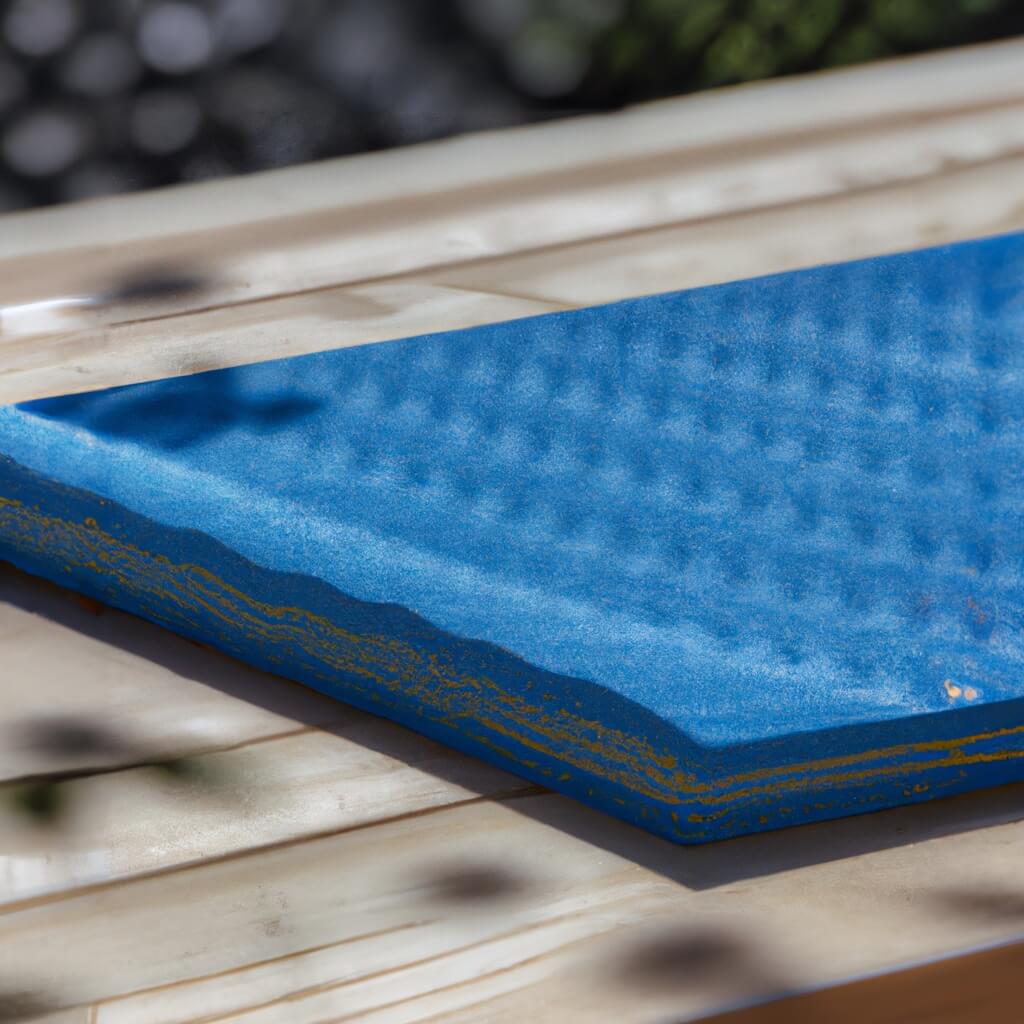 How do you install synthetic turf on decking?
Once you purchase artificial turf and have all the tools ready, you can install your artificial turf.
Step #1: Clean the deck
Before installing the turf, use the deck cleaning solution to remove grease, debris, and other dirt from the deck. Spray the solution and use a scrub brush. If you have access to a garden hose, hose the solution off. If not, wash the surface with water.
After you finish, allow the deck to dry for at least 48 hours. Keep this in mind when planning your project, and make sure there isn't rain in the forecast.  
Step #2: Install the Padding
If you haven't done measuring and marking yet, it's time to calculate how much padding you need for the surface. Use the utility knife to cut the padding into sections. 
Next, use turf adhesive according to the directions on the package. This usually involves adding turf glue to the perimeter of the pads and where they join. Lay the padding down and use a roller to smooth it out across the entire surface.
Step #3: Install the Turf
Once the padding is in place, you can use the utility knife to cut the right-sized pieces of artificial grass to fit the surface. Then you need to apply the adhesive again and lay artificial grass on top of the padding. Next, apply the seam tape.  
To minimize the seams, you can browse different turf seaming techniques. Ensuring the same pile direction for all pieces is key to a beautiful appearance.
Make sure to trip all excess grass and secure the edges. The synthetic grass shouldn't roll up around the perimeter.
Step #4: Wait and Use
Before you start using your new decking, wait a few hours. You need to give the adhesive and sealer a few hours to dry and set in. Once four or five hours pass, you can take full advantage of the surface, move furniture, install a grill, or sunbathe.
While DIY installations are possible, they rarely yield the same results as professional artificial turf installation. Homeowners can face various problems, including uneven surfaces, gaps between seams, unsecured edges, and more. As a result, DIY artificial turf on decking doesn't provide the expected benefits and tends to have a much shorter lifespan than professionally-installed grass.
How much does it cost to install artificial turf on wood?
The cost of professional installation depends on labor costs that may vary according to your location. For example, installing artificial turf in California can cost as little as $8 per square foot. Prices may increase if the project isn't a perfect rectangle or uses premium high-quality artificial grass. The price also does not include the cost of shock pads or other non-turf materials required for installing synthetic turf on wood.
If you choose professional installation, hire licensed and insured artificial grass installers offering a multi-year installation warranty and a product warranty.
Overall, you can install the turf independently if you have all the right tools, experience, and several free weekends. However, the reasonable installation price and possible DIY mistakes make professional installation much more appealing. As an added benefit, top-tier professional installers can lay up to 500 square feet of artificial grass per day.
But how do you know whether an installation company is best-in-class? To find out, check out our Expert's Guide to Comparing Artificial Grass Installers.