From Soggy to Stunning: Installing Drainage for Your Synthetic Turf
Apr 18, 2023 | Turf Maintenance and Care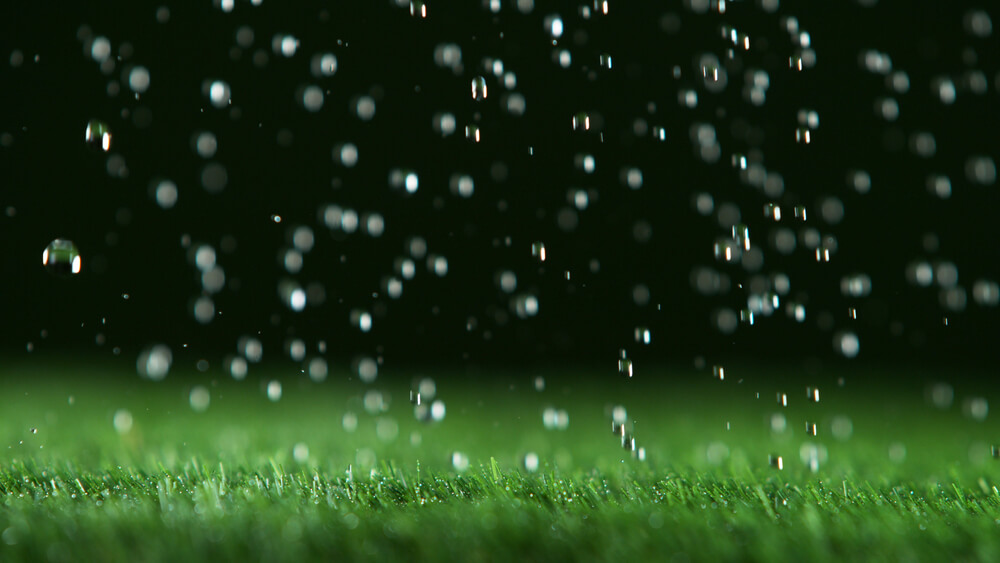 The right drainage solution will protect artificial grass from standing water, extend the material's lifespan, and keep your lawn pristine throughout the seasons. Understanding the drainage considerations for the specific type of artificial turf you install—and the surface it's installed on—can ensure your faux grass stays a low-maintenance alternative to natural grass for decades.
But why does drainage become an issue for improperly installed artificial grass?
Isn't Artificial Grass Water Permeable?
Yes, most synthetic turf materials are permeable. The backing allows water to pass through, but there may be some resistance based on the material's coating, thickness, and the backing's degree of perforation. Not all turf products are equally permeable, you should select the right product for your property and climate.
Artificial grass backings come as either perforated or non-perforated. Perforations are holes in the turf backing that drains fluid by allowing it to pass through the surface vertically.
Fully coated turf backing is usually perforated because water cannot otherwise flow through the fully coated system backing and would remain trapped on top of the material.

Partially coated and uncoated turf materials can be permeable without perforations. New coatings may have partial coverage or are made from chemicals that allow water through, reducing the need for perforation.
Water permeability rates and flow time are essential measures that communicate how water can flow through the turf.
A material's water permeability rate refers to the rate at which water can vertically move through the surface. A low water permeability rate means the installed turf is slow to drain liquid, while a high rate means the artificial grass system can easily accommodate voluminous rainfall or water flow.
Flow time, on the other hand, is a bit more complex. This measurement is based on the time it takes to drain the liquid through the entire drainage system, including the turf backing and underlying base material. This measurement can give users a more thorough understanding of their drainage system's capacity.
The Synthetic Turf Council requires artificial grass to have a drainage rate of 14 inches per hour.
However, the right turf products will far exceed this minimum. For example:
Flow 98 Olive

: This turf offers a water permeability rate of 204.8 inches per hour.

Flow 75+ Olive

: This turf offers a water permeability rate of 331.3 inches per hour.
This alleviates some issues with proper drainage of artificial grass. However, having a reliable drainage system underneath the turf is equally essential.
So, Why Would Water-Permeable Synthetic Turf Need a Drainage System?
While water can quickly pass through high-quality water-permeable artificial turf, the wrong underlying surface will trap that water in place. Without an appropriate drainage system to match, that water will pool underneath the turf material or linger on top of it. Some of the consequences of not having a drainage solution include:
The development of 

mold, mildew, and weeds,

 which can all grow in the presence of pooled water

Uneven surfaces across your lawn, including new slopes and grades across an underlying soil surface

Premature wear on your artificial turf seams as the water causes stress on the seams and degrades the adhesive

A shortened lifespan for the turf
With the right drainage system, you can ensure water doesn't sit stagnant under your artificial grass and protect your turf installation from these problems.
What Should You Put Under Turf to Install Drainage on Soil?
Depending on the surface under your artificial grass (wood, soil, concrete, etc.), you will need different tools and materials.
If you install artificial turf on top of soil, the first step is to remove the existing grass and approximately four inches of the underlying soil across the entire work surface. This creates room for a base layer that facilitates drainage away from the turf.
Class II road base is a synthetic turf base layer material that provides a solid, compact surface through which water can easily flow without shifting the turf's seams. 
To prepare this surface, add three inches of Class II base material where you removed the soil and top it with an optional 1/2 inch of decomposed granite. Compact the entire surface with a vibrating plate compactor to lock it in place.
You can also place additional materials into the ground before adding the base layer, like gopher wire or a weed barrier (through weed barrier isn't recommended for spaces with pets).

What Should You Put Under Turf to Install on Wood?
If you install artificial grass directly on top of wood, the hard surface can impede fast drainage. Installing a foam underlay between the turf and the wood is best. This adds extra cushioning to the surface, making the turf feel softer while also providing a thick, water-permeable layer that protects the turf. 
To install foam underlay, lay out a roll of the material and cut it to match the size and shape of the wood surface. Then allow the material to sit and acclimatize; this step should only take a couple of hours.
Glue the foam to the wood surface with specialty turf glue and allow it to dry. The foam both provides a proper drainage layer and increases the softness of the synthetic turf.
What Should You Put Under Turf to Install Drainage on Concrete?
The key to great drainage for artificial turf on a concrete surface is in preparation. Like wood, concrete surfaces should be matched with foam underlay to absorb shock and help drain rainwater away from the turf.
Follow these steps to install drainage on concrete:
Clean and prepare the concrete. Power wash the surface to remove organic buildup and remove loose surface material. Pull out any weeds sprouting in the cracks. You can also fill in gaps with a self-leveling compound.

Determine if you need to install drainage holes. As you're cleaning the surface, keep an eye out for any pooling water or puddles. If any sections retain water, use a 16mm bit drill and drill holes into every puddle. Fill the holes with pea shingle (approximately ten mm-wide pieces). These drainage holes will allow water to drain away under the turf.

Install the foam. Wait for the concrete surface to dry entirely. Next, roll out the foam, and cut it to size. If you're using multiple rolls, use seam tape to seal the adjacent edges together. Then you can glue the foam to the concrete using

turf glue

.
Do Turf Installation Warranties Cover Drainage Issues?
When you choose the right artificial grass installation company, they will protect your synthetic grass from future drainage issues with proper installation and an accompanying installation warranty.
Best-in-class grass installation warranties cover both the base layer material and the labor to replace it.
Biltright Turf is the only installer with installation warranties covering labor with $0 out of pocket for material replacement in addition to product warranties of up to 16 years.
But how does Biltright Turf compare to other artificial grass installation companies? Find out by downloading our Expert Guide to Comparing Artificial Grass Installers.