How Much Does Professional Artificial Grass Installation Cost In California: A 2023 Price Guide
Mar 07, 2023 | Artificial Grass for Homes, artificial grass installation, Cost, artificial turf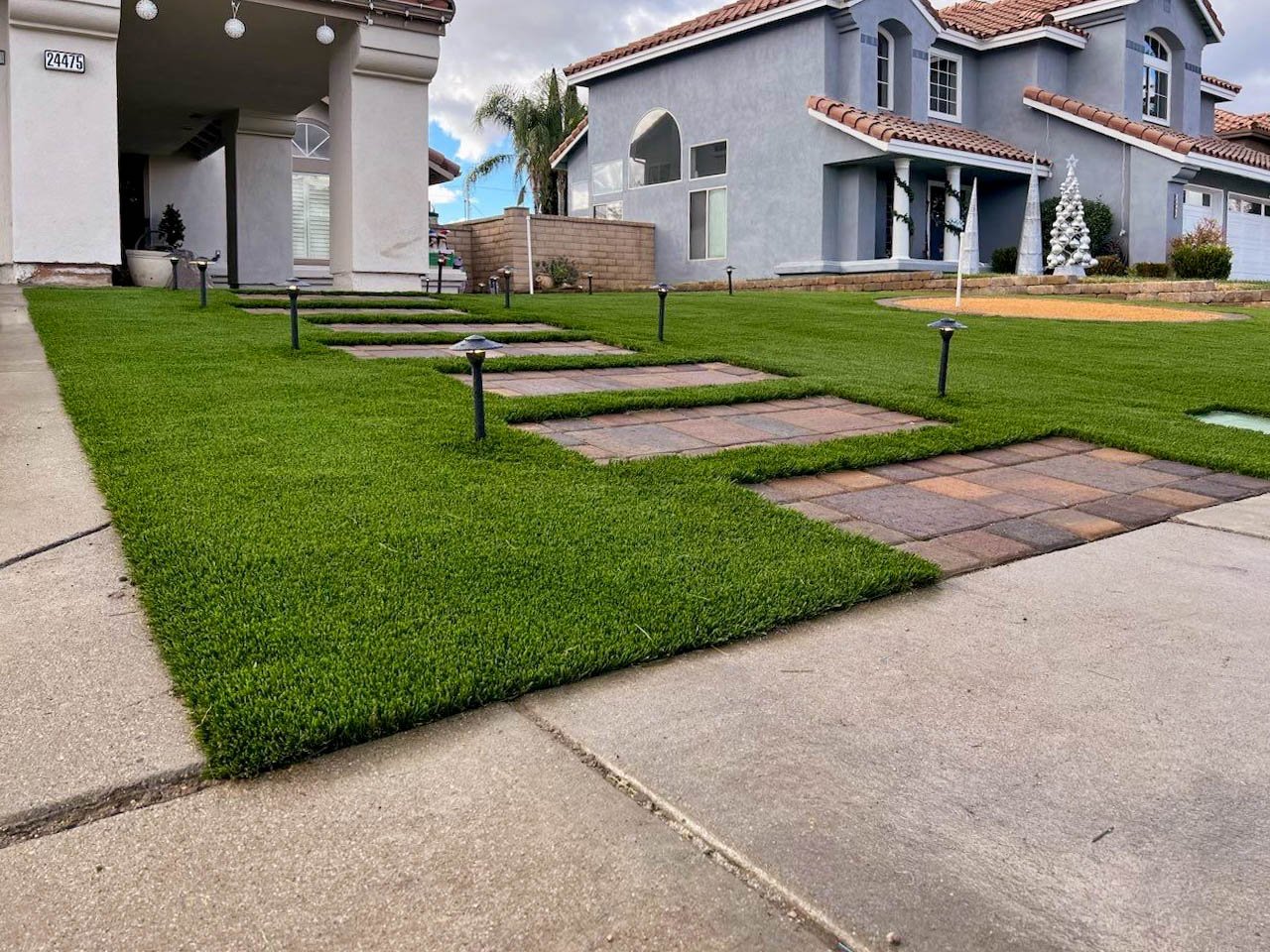 Are you thinking about making the investment in professional artificial grass installation? Before making this investment, we want to ensure you're informed about all the dos and don'ts of hiring an artificial grass contractor.
We are also big believers in equipping customers to make well-informed decisions when considering if artificial grass is a worthy investment for your home or business. Use this guide as a tool to help find a trusted professional contractor for your artificial grass installation project, in California.
We want to preface this article by saying the artificial grass installation cost estimates used account only for companies that are fully licensed, bonded and insured according to California state law. Thus, only best practice installation methods are only taken into account. Do also keep in mind every project is completely unique, so cost can vary depending on job site circumstances.
Why Is Contracting A Licensed Artificial Grass Contractor A Fruitful Investment?
Hiring a contractor to install artificial grass in your backyard, lawn, or commercial properties is undoubtedly a massive investment. Therefore, unless you have mammoth money reserves, it's always advisable to make your hiring decisions carefully.
While an unlicensed artificial grass contractor may make numerous promises to establish goodwill, the fruitful course of events lies in hiring a licensed artificial turf contractor. Keep reading to unveil other benefits of a licensed turf installer.
Follows Necessary Guidelines and Standards
Amongst other states in America, California also has some guidelines for different professions to ensure legality and state standards. A licensed artificial turf company will have a detailed know-how of the state regulations declared for artificial grass installation.
Knowledge of these rules enables companies to install artificial landscaping efficiently the first time around. This saves the nuisance and hassle of repetitive corrections in case anything goes wrong.
Expertise
The greatest drawback of letting an unlicensed company manage your turf installation is that you are not assured that the outcome will be to your liking. A licensed company does not only indicate state-certified professionalism, but it also means that the company in question has all the necessary expertise to undertake a job and perform it fantastically.
A licensed installer has the right level of mastery and foresight to cater to land area and customer demands of varying sizes and designs. This allows them to handle the job at hand like a pro. Their adeptness in the field, which can be validated by their license, enables them to install artificial turf conveniently and speedily with little to no mistakes.
They know where to start, the right amount of turf that would be required for every project, and ways to make the project look seamless. Their familiarity with the job and dexterity makes them incomparable to unlicensed artificial grass installers.
Covers Insurance
This is where individuals realize that unlicensed grass contractors are no match for licensed artificial turf companies. Licensed contractors give their customers the benefit of availing of any insurance in case of unexpected damages or unforeseeable impairment that may arise. This is advantageous to residents all around California and enables companies to build trust with their customers.
Get All The Answers You Need
Installation of artificial grass means making significant changes to your property. Thus, home or commercial property owners usually have an abundance of queries regarding the installation process, the type of synthetic turf used, and much more.
Only contractors who have an acute understanding of the entire process of fake grass installation and the best possible methods to do so will be able to completely satisfy their customers and provide them with the answers they need.
Biltright Turf: One of California's Best Licensed Artificial Grass Contractors
We know the title of the "best" licensed artificial grass company is a bit much, but when diligently researched. We believe we have a close shot of earning the title! Biltright Turf is on a mission to help homeowners across California to enjoy the benefits of low maintenance landscaping. And now we want to help you!
Our low-maintenance artificial turf have made life easier for California residents, who can enjoy aesthetically enhanced properties without spending huge bucks on them. From the first stage of the installation process to the final stage, We handle each phase with unparalleled command and expertise.
Why Choose Biltright Turf For Your Next Artificial Grass Installation Project?
We are Licensed and Insured
Biltright Turf is backed by all the necessary paperwork and licenses required by the state of California. This includes the C-27 Landscaping License and the D-12 Synthetic Products License. But that's not where Biltright Turf pulls the brakes. To further win over the trust of their customers and assure them of their skills, Biltright Turf has also acquired the Synthetic Turf Council Landscape Certification.
The STC Landscaping Certificate is bestowed only to those few companies who are informed about the industry's latest trends and innovations and the best practices for installing artificial grass. It also testifies that the Biltright Turf team is informed about all the landscape-specific installation procedures, codes of ethics, and guidelines that ensure efficient installation.
3 Year Guarantee
Biltright Turf offers an extended period of 3 years installer's guarantee to all its customers. Thus, if any workmanship defects or malfunction with the handiwork arises, Biltright Turf will uphold its warranty and send its team to the customer's house to right the wrongs.
They offer both workmanship and product warranty. While the former offers protection against installation problems, the latter offers to fix problems arising from product quality.
Seamless Installation
One of property owners' most common complaints is the seams peeping out in different areas across the land. Not only does this indicate un-professionalism on the contractor's part, but it also ruins the landscape's overall appearance.
When hiring Biltright Turf for your artificial turf installation, this is something you never have to worry about. Their team is expertly trained and uses complex tools to ensure the seams are not visible at installation. We even guarantee it!
10+ Years of Experience
The ideal artificial grass installation company has extensive experience under its belt. At Biltright Turf, there is no scarcity of experience. Biltright Turf boasts 10+ years of experience in the artificial landscaping industry.
This means that they have encountered innumerable different scenarios and know their way around each of them. Moreover, it also indicates that if any unexpected concerns arise during your project, they can deal with them effectively.
Fast Paced Installation
At Biltright Turf, utmost priority is given to customer satisfaction and convenience. Depending on the area where artificial grass needs to be installed, the length of time for installation can increase or decrease. This can halt the daily operations and chores of a household or commercial property.
Thus, Biltright Turf follows a fast-paced installation technique, with the average installation pace at 500 sf per day. In addition, their team takes no gaps or unnecessary breaks in their schedule. They work straight through every job to ensure the speedy completion of each project.
Extensive Portfolio
Biltright Turf has an impressive portfolio to offer their customers, maintaining a stunning record of all their past projects. These projects include golf courses, residential projects, pet turf, playgrounds, events, sports fields, and other commercial projects. You can use their past projects to derive inspiration for your dream project or to get self-assurance of their quality of work. Biltright Turf has an outstanding record of successfully completing, 9000+ projects of varying kinds.
Admirable Customer Reviews
It's okay if you don't want to make your hiring decisions based on these awe-inspiring figures. After all, they're just numbers at the end of the day. One thing that can surely convince you in favor of Biltright Turf is our customer reviews.
Owing to their unmatched services, Biltright Turf has garnered massive applause from their past customers. They have around 380+ 5-star reviews on both Google and Yelp. See for yourselves, and you'll find just how Biltright Turf has helped other Californians bring their dream projects to life.
High-Quality Synthetic Turf
Biltright Turf uses only the industry's best synthetic turf for all their project needs. ECO 82 (artificial turf used by Biltright Turf) is a revolutionary artificial grass model. One of the prime reasons for its fame is its lightweight and resilient blades.
Even if you perform heavy-use applications on this turf, it won't wither away but look as good as new. Get your hands on Eco 82 with Biltright Turf and enhance the appearance of your property.
Biltright Turf California Pricing Chart
*Prices are valid as of 2/8/23 and are subject to change anytime.
| | | | | |
| --- | --- | --- | --- | --- |
| INSTALL TYPE | 300-800 SF | 801+ sqft | 1001+ sqft | 1301+ sqft |
| RESIDENTIAL LAWN AREA | $8.50* | $8.15* | $7.55* | $7.04* |
| PUTTING GREEN | $13.45* | $13.01* | $12.18* | $11.76* |
NOTE: THE CHART ABOVE IS BASED ON THE ASSUMPTION THAT THE FIELD IS A NO WASTE PERFECT RECTANGLE WITH ECO 82
**DOES NOT INCLUDE EDGING, EXTRA DEMO, EXTRA BASE, ASSUMES PERFECT RECTANGLE INSTALL LIKE 15X35 MINIMAL WASTE AND OUR LOWEST COST PRODUCT**
**PRICE PER SF COULD INCREASE UP TO $2-3 PER SF MORE THAN LISTED NUMBERS DEPENDING ON TURF CHOICE AND OTHER VARIABLES**
Other Important Notes
Excavation of existing grass and dirt as needed (varies per project)
California 3-4" demo
Disconnecting/Disabling irrigation and water from lawn areas only (as/if needed)

Importing chat or base material
California 3-4"
Professionally grade new sub-base

Vibe-plate compact base material (no weed barrier included - turf is enough)

Lay synthetic grass material

Professional seams

Edges secured throughout the perimeter with 5" nails

Turf infill as needed

Power-broom final surface

Final job clean up
Other Factors That Can Increase The Cost Of Installation
The cost chart and pricing details mentioned above account for the standard process of installing artificial turf on your property. The final cost can vary depending on the addition of the factors mentioned below.
Irregularly Shaped Yards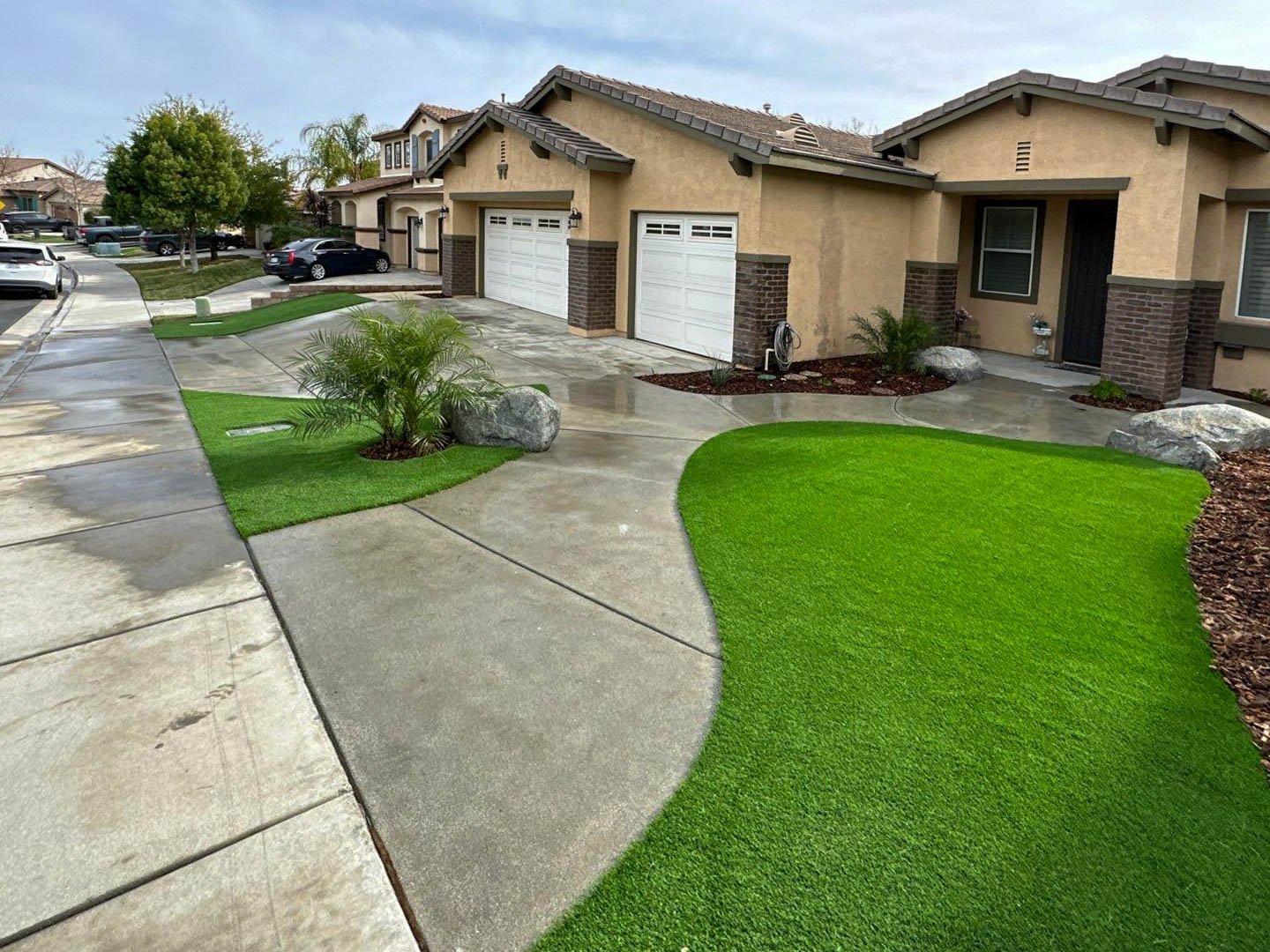 Installing artificial grass on curved or uneven land requires more labor work than on smooth terrains. More work is needed to bring the land to cut or reshape the landscaping for the proper application of artificial turfs.
Putting Greens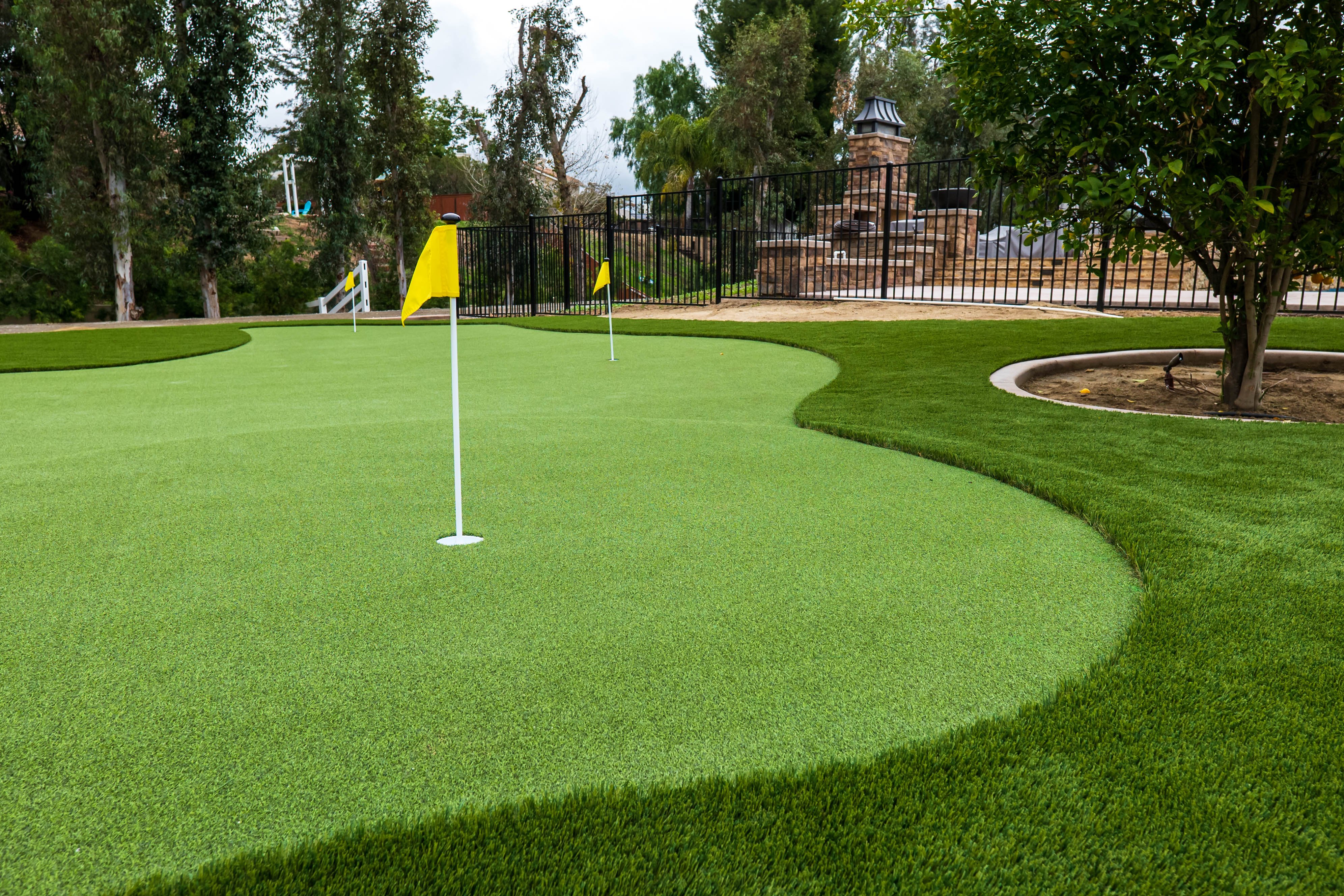 Putting greens use an additional fine DG base and complex detail to smoothness. Moreover, putting greens requires an intricate process to set the putting green cups concretely and at the right level.
Restrictive Access To The Project Area
Restricted access to the area that requires artificial turf installation slows down the installation procedure and significantly increases costs.
Gopher Wire Installation
Gopher wire installation is a preventive measure against gophers from ruining the smoothness of your artificial turf after application.
Additional edgings like Bender Board or Concrete Mow Strips
A Bender board is a forming board made of composite plastics for professional landscaping. Similarly, concrete mow strips are concrete strips that separate artificial turfs from nearby walls for a neater finish.
Additional drainage
Making drainage arrangements requires excavating the ground and removing the debris before a sub-base is layered on the ground. It is this base that performs the drainage functions.
Additional irrigation work
For example if a tree in the turf area needs to maintain irrigation, but the rest of the lawn doesn't there would be additional irrigation work to maintain that.
Yard Requires More Than 3-4" Excavation
Deeper excavation demands additional labor and disposal, which increases the overall cost of artificial turf installation.
Get Your Precise Artificial Grass Installation Estimate With Biltright Turf Today!
Our turf specialists are available at all times to answer any installation-related queries you may have. Schedule your appointment today and get the answers to all your questions and a free estimate in a single day! We offer several simple ways to obtain an artificial grass installation estimate from Biltright Turf.