What Is the Fastest Draining Synthetic Turf?
Jan 10, 2023 | Artificial Turf Products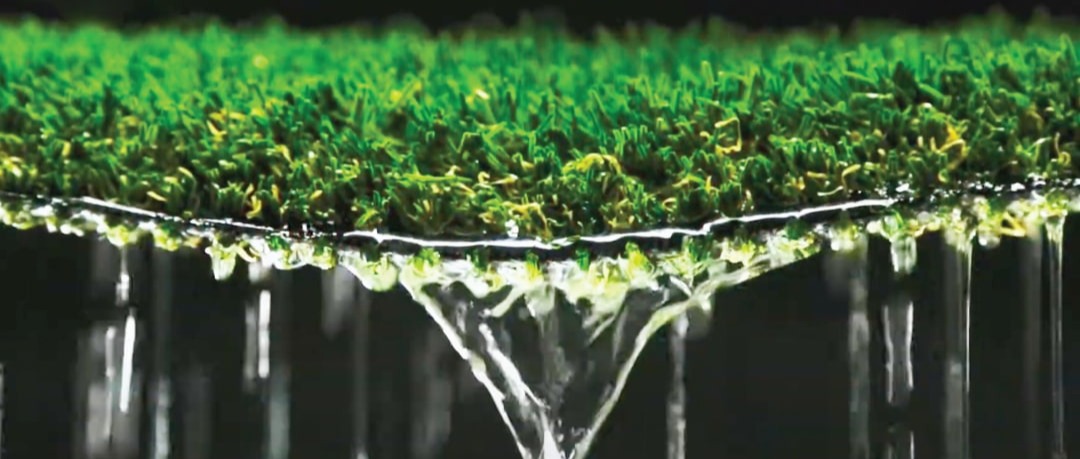 If you need synthetic grass that can handle heavy rain and big messes, look no further!
Below we've listed the fastest-draining turfs on the market. We break down the importance of drainage and which fast-draining products are best suited to different lifestyles.
Why is permeability important?
#1 It Protects Your Property
Proper drainage ensures that your home is safe from mud and muck!
We supply synthetic turf with fast-draining backings, which we install over class II road base. That way it won't become oversaturated and flood during the wet season.
Natural grass is planted in the dirt, which turns into mud in the wet season. Rather than watch your perfectly manicured lawn turn into a sea of mud and debris, you can choose a better landscaping solution. Synthetic turf blades are carefully stitched into water-permeable backings, which won't flood during the wet season.
Instead of worrying about mud and muck getting into your home, kick back and enjoy the Turf Life with a lawn from Biltright!
#2 It Reduces Runoff
By switching to drought-friendly landscaping, you can easily reduce the amount of water that flows off your property. And the water you do use gets funneled into the soil. This reduces water waste, keeping your community clean and shielding you from potential fines. Here's how it works:
Synthetic turf uses substantially less water than natural grass, and it isn't planted in loose top soil. With synthetic grass, you may want to hose it off here and there to keep it clean, but you avoid the pitfalls of landscape irrigation.
Because of artificial turf's quick draining properties, the small amounts of water that you do use quickly drains through water permeable backings and is then filtered through class ii road base into the soil below. It doesn't pool at the surface and then spill over onto your sidewalk.

Which Artificial Turf Drains Fastest?
The Synthetic Turf Council's standard for water permeability is a rate of ten inches of water per hour.
Our Flow series goes above and beyond by offering the fastest draining turf on the market! This product line uses OptimumFlow backings for optimal drainage. OptimumFlow seamlessly whisks away rain and liquid pet waste to create a more comfortable yard. They are capable of draining liquids up to 10 times faster than a standard backing!
Your All-in-One Turf Solution
With a water permeability score of over 204 inches per hour, Flow Duo masterfully blends the latest in turf technology with a classically styled look.
Flow Duo combines Optimum Flow technology with V and Z-shaped blades to create beautiful, long-lasting turf! Its innovative two-blade design increases resiliency without sacrificing comfort. It also features a lush 1.75-inch pile height and naturalistic colors to capture the look and feel of real grass accurately.
Ideal for Heavy Use
Flow 98 Olive touts a water permeability score of 320.9 inches per hour and is perfect for entertaining guests.
This product's towering pile height offers an incredibly lush look — transforming your yard into a forested glade!
Pet Owner Preferred
Clocking in with a jaw-dropping drainage rate of over 330 inches per hour, we have Flow 75 Forest!
Flow 75 Forest features a respectable pile height and a surprisingly natural complexion. Its exceptional drainage combines with a stiff blade shape to make cleaning up after pets easier than ever!
There's Even More to Choose From
Biltright carries over two dozen quality turf products! We have synthetic turf for every budget and every lifestyle.
To find the best artificial for your project, schedule a 30-minute consultation!