Two Ways to Install Artificial Turf on Concrete
Apr 04, 2023 | Turf Installation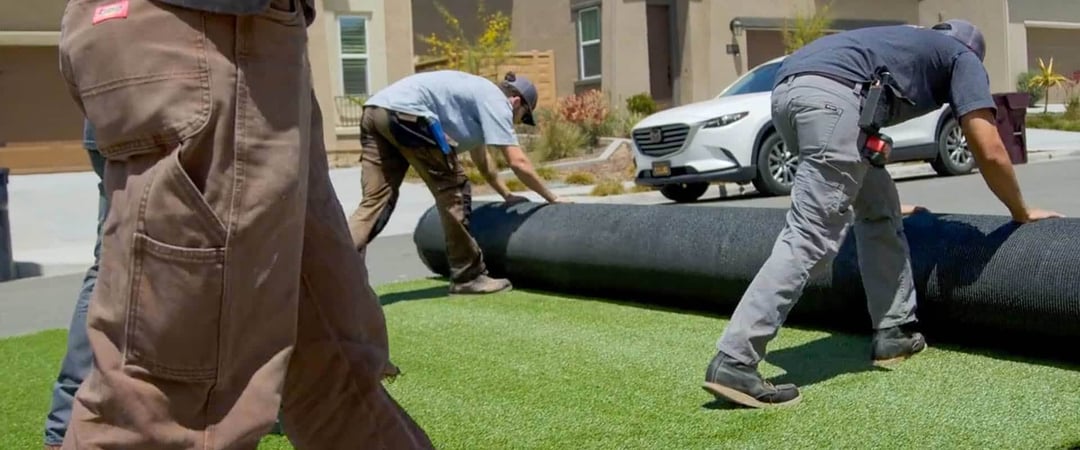 When you hear about artificial grass, you probably think of it in terms of replacing natural grass lawns. However, synthetic turf can be installed on many surfaces, including concrete.
Let's say you have an old concrete patio. It has seen better days, and, honestly, it doesn't do many favors to your backyard. Installing artificial grass over your concrete patio is an excellent way to refresh a tired-looking outdoor space.
Artificial turf installation instructions usually focus on how to install artificial turf on soil. We're going to explain how to install it on concrete.
There are two ways to get turf on concrete: the wrong way and the right way. Keep reading to learn both.
Benefits of Installing Artificial Grass on Concrete Surfaces
If you have an old concrete surface, you know that it doesn't get more attractive over time. Concrete can start cracking and getting discolored in places. One benefit of laying artificial grass over concrete surfaces is that the synthetic grass looks better for longer than concrete.
High-quality artificial grass can last up to 20 years.
Artificial turf comes in a beautiful shade of green, is lush, and brightens up your yard instantly. Artificial grass adds new curb appeal to your house if the concrete area is visible from the street.
Artificial grass is also safer than concrete. Concrete can be slippery when wet, and it can be downright dangerous when it's covered in ice. You are much less likely to slip on damp turf than concrete, and ice doesn't typically form over artificial grass.  Artificial turf is also softer than concrete, reducing injuries that could result from a fall.
Finally, artificial turf is versatile. You can install it over any concrete surface if the surface is relatively smooth and has only minor defects. Even if there are cracks in your concrete, you can usually fill them in with a self-leveling compound you can buy at a hardware store.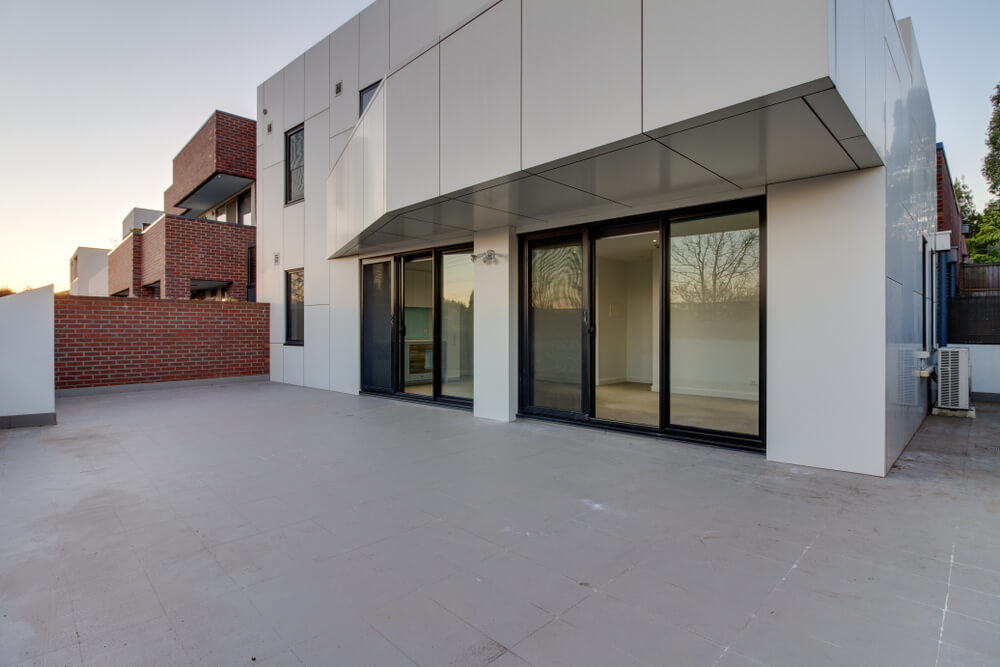 Can You Just Lay Artificial Grass Directly on Concrete?
Artificial turf can be installed on old concrete, block paving, and even paving slabs. You can lay it directly on the concrete with nothing between the turf and concrete, but you still need to anchor it to the ground with turf glue or seam tape.
Just remember that the turf won't be soft without an underlay. It also won't have good drainage, which can lead to the buildup of mildew and mold.
In fact, laying the artificial grass directly on the concrete is the wrong way to install turf.
Tools and Materials Required to Lay Synthetic Turf on Concrete
You will need a few essential tools and materials to correctly install artificial turf on concrete. 
Tools 
Tape measure 

Utility knife or turf cutter 

Garden hose 

Plastic rake or power broom 

Drill with 16 mm bit 
Materials 
Artificial turf 

Turf Infill 

10 mm shingle 

Self-leveling compound (for minor cracks)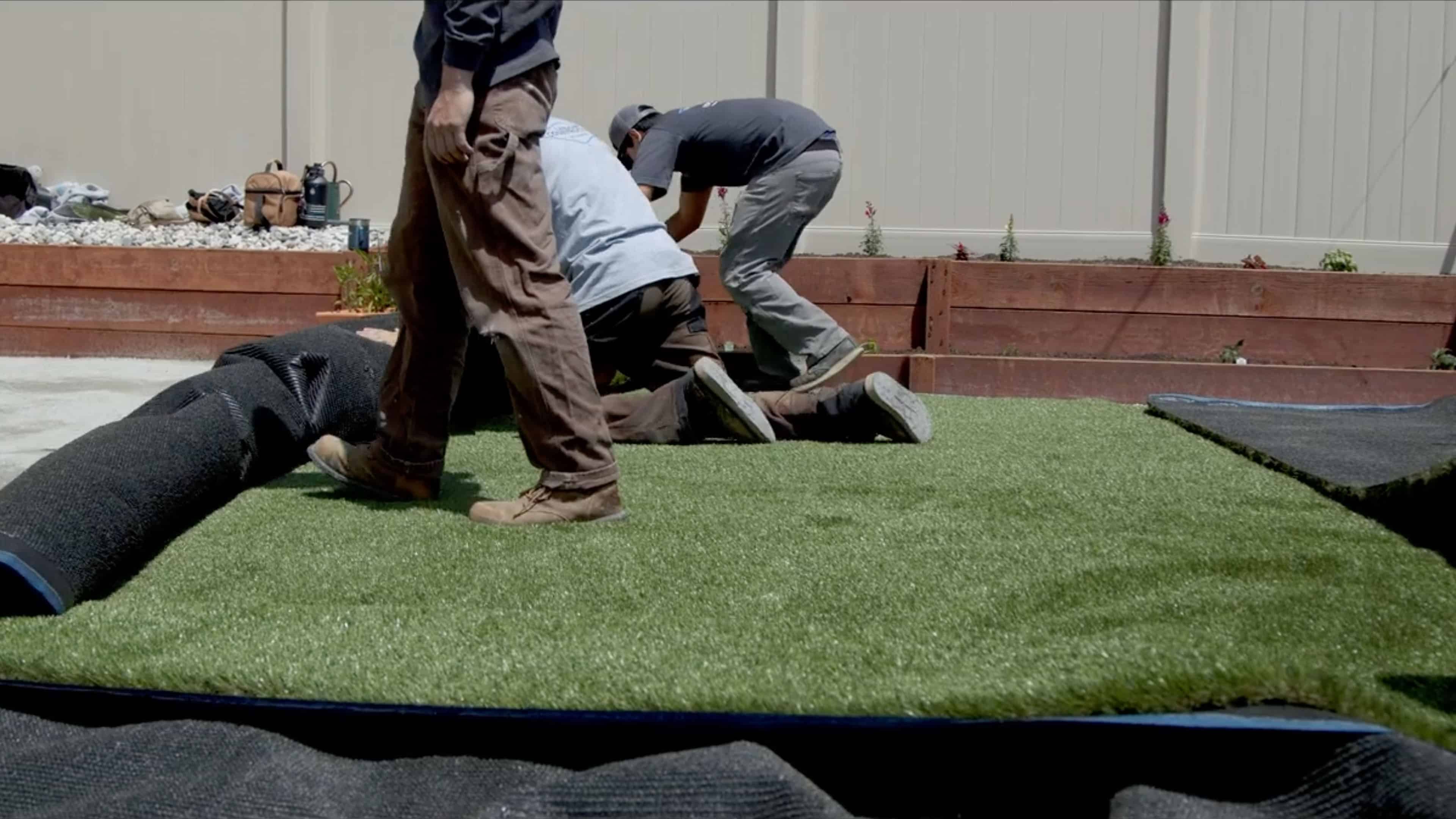 How Do You Properly Install Artificial Grass on Concrete?
Let's go through the steps of properly installing artificial grass on top of concrete.
1. Measure, Measure, Measure 
Use a tape measure to find out how much artificial turf you need. You'll want to purchase a little excess turf to trim it to your exact dimensions. 
Next, you need to figure out how much turf adhesive you need. To do this, measure the perimeter of the concrete area.
You may need to join pieces of artificial turf together, which is best accomplished with seam tape. Determine how much seam tape you need by measuring the length of any joints.
2. Clean the Concrete 
Prep your concrete base before you install the artificial turf. If there are any minor cracks in the concrete, fix them with a self-leveling compound. If you have weeds, use a weedkiller. 
It's crucial to clean the concrete so the adhesive will bond to it. Use a hose or a broom to remove dirt and debris from the concrete surface. Let the concrete dry before continuing.
3. Drill for Drainage 
Check how your concrete surface drains by turning on the hose and soaking the concrete. If water pools anywhere, you have a drainage problem, which could lead to mold and mildew.
Don't worry; you can fix this by drilling holes. Use your drill with a 16 mm bit to drill holes wherever drainage is an issue on your concrete. Fill the gaps with 10 mm shingle, also known as "pea shingle."
4. Treat the Turf 
Now it's time to unroll your artificial grass. Let it settle in the sun for 30 to 60 minutes to remove the creases. 
To trim the edges, cut the turf from the back to avoid cutting through the stitches.
If you have joints, you first want to make sure the piles of your separate pieces are running in the same direction. Then, trim three stitches off the edge of each piece. Push them together, getting them right up next to each other to form an invisible joint. Then, put the tape along the underside of the seam, applying pressure all the way, so they stick properly.
5. Secure the Perimeter 
Once the joints are secured, go ahead and fold back the grass at the edges and apply glue to the entire perimeter.
6. Insert Infill 
Artificial turf infill offers several benefits, including:
Improved footing and traction 

Increased durability of your artificial grass

Reduced heat absorption 

Better-looking artificial turf
There are different types of artificial turf infill for different uses. Some infill products are better for pet turf, while others are great for putting greens. Whichever infill you choose, spread it on your artificial turf manually or with a drop spreader. You can use a power broom or rake to even it out. 
From Concrete Patios to Concrete Anything
Artificial grass can be installed on any concrete surface. If you are an experienced DIYer, you can undoubtedly attempt this task over several weekends.
However, professional installers can lay 500 square feet of turf in a single day. Best-in-class artificial grass installers even provide installation warranties in addition to product warranties. 
Once the artificial turf is installed, you can enjoy the new look of your yard for years with very little maintenance needed.
Goodbye concrete, and hello green artificial grass!
FAQs about Turf Installation on Concrete
Can you install synthetic turf on painted concrete?
Yes, you can lay turf directly on the paint. If the concrete is painted don't worry about stripping the paint. Turf can be installed over painted concrete without any problems!
Can you lay fake grass on a sloped concrete surface?
Yes, a sloped concrete surface is fine. However, you must install a retaining system at the top of the slope. Retaining systems may be made of metal or wooden edging. Aside from that, the installation process is similar to laying artificial turf on a flat surface.
Can you lay artificial grass on cracked concrete?
Yes, you can lay turf on cracked concrete if the cracks are minor enough to be repairable. If the gaps are large enough to raise concrete sections, creating an uneven surface, you will probably need to replace the concrete.