Which Infill Pairs Best With My Lifestyle?
Dec 16, 2022 | Turf Products

Infill is the gritty, sand-like material that is brushed into synthetic turf to keep it standing upright. Infill can be made from a variety of materials including silica sand, volcanic ash, rubber crumb, and more!
Do I need to add infill to synthetic grass?
Yes! Infill keeps your synthetic grass from matting and crumpling over. It offers a more natural look that better recreates the appearance of living grass. Without infill, artificial grass will flatten — a bad look for such a big investment.
Infill can also keep your lawn cooler on hot days and prevent it from smelling by trapping and locking foul odors. Some infills even feature antimicrobial technology to prevent the growth of harmful bacteria.
Which infill pairs best with my lifestyle?
Finding the best turf infill for you
Zeofill's negatively charged molecular structure prevents the ammonium in pet urine from forming a foul-smelling gas. It's made from naturally sourced materials and features antimicrobial technology that prevents the growth of harmful molds and bacteria. Better yet, ZeoFill will keep your lawn up to nineteen cooler than lawns with silica sand infills!
Wonderfill uses Zinc Omadine™ to prevent the growth of harmful bacteria. Its unique design makes it less abrasive than other infills.
Envirofill utilizes silicone dioxide to prevent synthetic lawns from overheating on warm days. It also features a highly-rounded quartz core that resists compaction. Better yet, this infill is infused with Microban® antimicrobial protection, to prevent the growth of bacteria. And Environfill is backed by a 16 year warranty!
Camofill is made with a specially sourced blend of multiple colors to give your lawn a pristine, natural look. Camofill uses Zinc Omadine™ to prevent the growth of bacteria, mold, and mildew.
Silica sand offers a solid aesthetic for yards with relatively low foot traffic. It provides essential support, keeping blades stiff and upright, but lacks antimicrobial technology. For pets, kids, and heavy use, we recommend using a product with antimicrobial technology.
Cool-Pet is a specialty infill blend developed specifically for pet owners! This proprietary pet solution is odor reducing, heat reducing, and safe for pets. It features powerful Microban technology, to prevent the growth of harmful molds and bacteria.
How do you fluff up new artificial grass?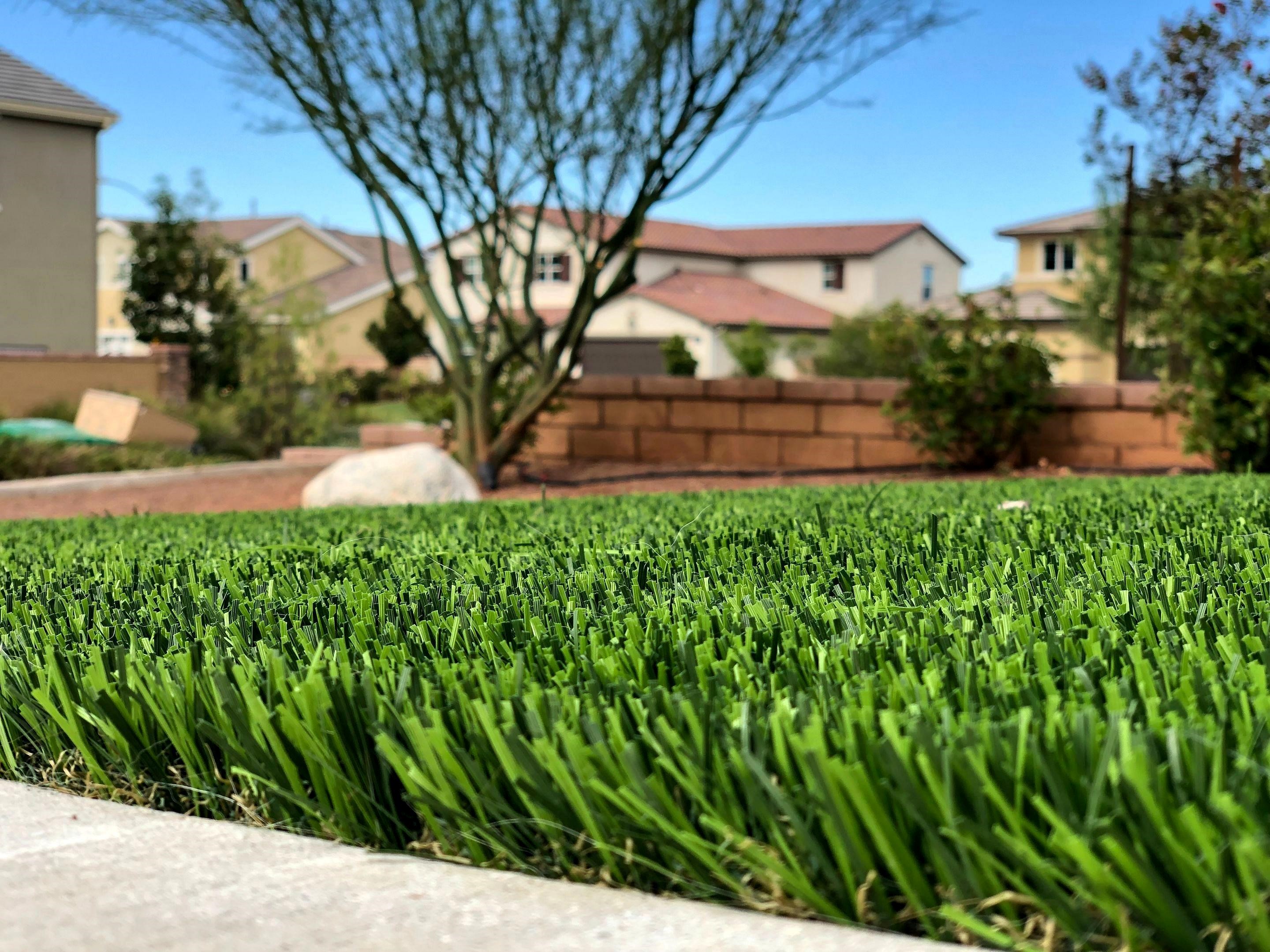 You can easily fluff up your turf lawn using infill and a drop spreader or broom!
Adding the proper amount of infill will directly impact the look, function, and longevity of your synthetic grass.
Use a drop spreader to disperse the manufacturer-recommended amount of infill evenly. Once you've covered your grass, use a stiff bristled broom to brush it into the turf. This will keep the blades standing straight and give your new lawn the appearance of freshly mowed grass. Lastly, don't forget to rinse your lawn to wash away any remaining dust.
The pros at Biltright use a power broom to disperse the infill effectively.
How often do you need to add infill to synthetic grass?
Figuring out how much infill to add can be difficult. But the pros at Biltright have infill down to a science. This is just one of the many services we offer homeowners!