Where Can I Buy Artificial Grass?
Sep 26, 2022 | Purchasing Artificial Turf
Before you know where to buy artificial grass, you should know what makes the best artificial grass.
Choosing the Right Synthetic Turf
There are a lot of synthetic turf types out there! But, just because something looks good doesn't mean it's built well. It's important to understand what separates tacky turf from high-quality artificial grass.
Good turf scores high in important statistics like water permeability, tuft bind strength, lead content, flammability, and UV resistance. These scores separate the pretenders from the real deal. At the end of the day, you need turf that will go the distance and create a healthy environment for your family.
At Biltright, we post all of our product testing information online — so you can make sure that you're getting the best possible artificial turf products.
What Characteristics Should the Best Turf Have?
Turf is more than fake grass — it's a lifestyle! In addition to offering a similar look and feel to real grass, quality artificial turf needs to be able to withstand the toughest conditions. The best artificial lawns remain soft, lush, and vibrant green through the harshest weather, including droughts, floods, and snow storms. Poor-quality turf fades, tears, and falls apart in the face of extreme stress. Biltright lawns are made to last years, even decades, and come with up to sixteen-year warranties.
Just as impressive as the longevity of our lawns is the diversity of our inventory! Your turf needs to adapt to your lifestyle. Everyone has different tastes. So we offer a variety of products to satisfy every customer. Biltright offers homeowners a diverse selection of products to choose from, including sports turf, putting greens, forested lawns, and everything in between!
Great Product, Unmatched Integrity
Biltright uses only the best-quality artificial grass for installation projects. Our turf is made using industry-leading technology and comes backed by extensive installation and workmanship guarantees — so not only will you have the best quality turf on your street but also the longest-lasting lawn!
There's Never Been a Better Time
Synthetic turf's long product life, low environmental impact, and general affordability make it the best option for residential lawns. And incentives from municipal governments have made installing artificial grass more affordable than ever. State and local governments are offering big rebates on turf lawns.
Now is your chance to get top turf for less than ever before! Are you ready?
See the Difference with Quality Synthetic Grass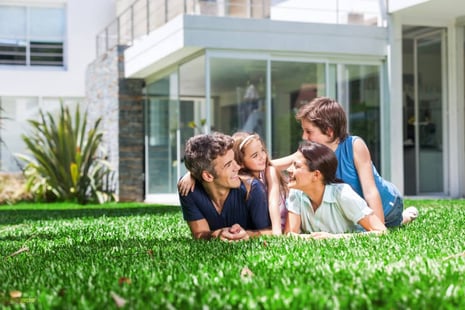 There's a reason that Biltright Turf is the most trusted turf installer in the country and an authorized Home Depot service provider. We offer quality artificial turf for all uses. We have the right turf for every project and every lifestyle. Plus, our turf comes backed with robust product and installation warranties.
Homeowners prefer Biltright because we can be trusted to get the job done right!
We even offer free consultations, so you can understand everything that goes into a Biltright lawn before putting ink to paper. Whether you're looking for an at-home putting green or a jaw-dropping lawn, Biltright has the right turf for you!
About Biltright
Biltright Turf is the nation's most trusted turf installer! We've teamed up with the biggest names in the industry to empower homeowners through simple, end-to-end installation. We are an authorized Home Depot service provider, and are preferred by thousands of customers around the country!