Not Your Grandfather's Astro Turf
Mar 06, 2023
Synthetic turf has come a long way since the 80s…
This isn't your grandfather's astro turf! Today's turf is built with innovative technology that keeps synthetic grass looking straight, green, and life-like for years to come.
Biltright is elevating synthetic grass to unseen heights with exciting new technology! Our product designers have been hard at work, crafting artificial grass that looks and feels better than actual grass! The result is technology that takes the turf industry to new heights.
Innovative blade shapes, higher quality yarn, tougher backings, and greater attention to detail make Biltright the most trusted name in artificial turf!
In fact, we're so confident in the quality of our products that they come backed by up to 16-year warranties.
DuraBlade
Yarn quality is the magical ingredient that makes the Turf Life so darn great!

Our patented DuraBlade technology is the highest quality yarn available in the US! It has an extended carbon chain which is tougher and more temperature resistant than low carbon yarns. Its unique molecular structure prevents flattening and fading over time — making it perfect for heavy foot traffic and sunny climates!


DuraBlade integrates C8 material with a modern extrusion technique to improve fibers — making it two times stronger than existing grades of carbon fiber blades!
DuraBlade is also softer and more natural looking than other commonly used yarns
Blade Shape
Blade shape plays a crucial role in the performance of artificial grass. Here are three of our most popular blade shapes:
V blades' unique design keeps them standing tall in the toughest conditions! The singular, hard angle fold down the center of the blade creates a stiff spine, which prevents it from folding and matting under heavy foot traffic.
W blades' folded design disperses heat to keep turf lawns up to 15 degrees cooler on hot days. W blades reflect more light than other blade shapes, creating a more comfortable, natural looking lawn.
Diamond blades' silky smooth texture gently cradles your feet, while its natural green aesthetic accurately recreates the look of living grass. Diamond blades are best suited for areas with low to medium foot traffic.
Backings
Turf blades get all the attention, but are only part of the equation. The best blades in the world don't make a difference if they're woven into low quality backings.
Backings are the bedrock of artificial turf. They keep blades in place, anchor turf lawns to their base, and ensure proper drainage to prevent molds, mildews, and property damage.
Poor quality backings can rip, tear, and allow for flooding. Our backings are made from tough, flexible materials to ensure optimal performance in all conditions and even after years of heavy use!
FlexGrip backings effortlessly cover the contours and angulations of even the trickiest terrain — making them perfect for artificial putting greens!
ArmorLoc features tightly woven layers that work with Platinum Putt's specialized yarn to create a powerful thermoset bond. ArmorLoc's layers are woven and stitched together before fabrication to better preserve the integrity of the product. This backing is non-directional, dimensionally, stable and ensures no excess movement.
Silverback coating binds yarn firmly with its backing. It locks fibers into place by penetrating deep into the base of each backing and coating every individual stitch with its patented, moisture resistant technology.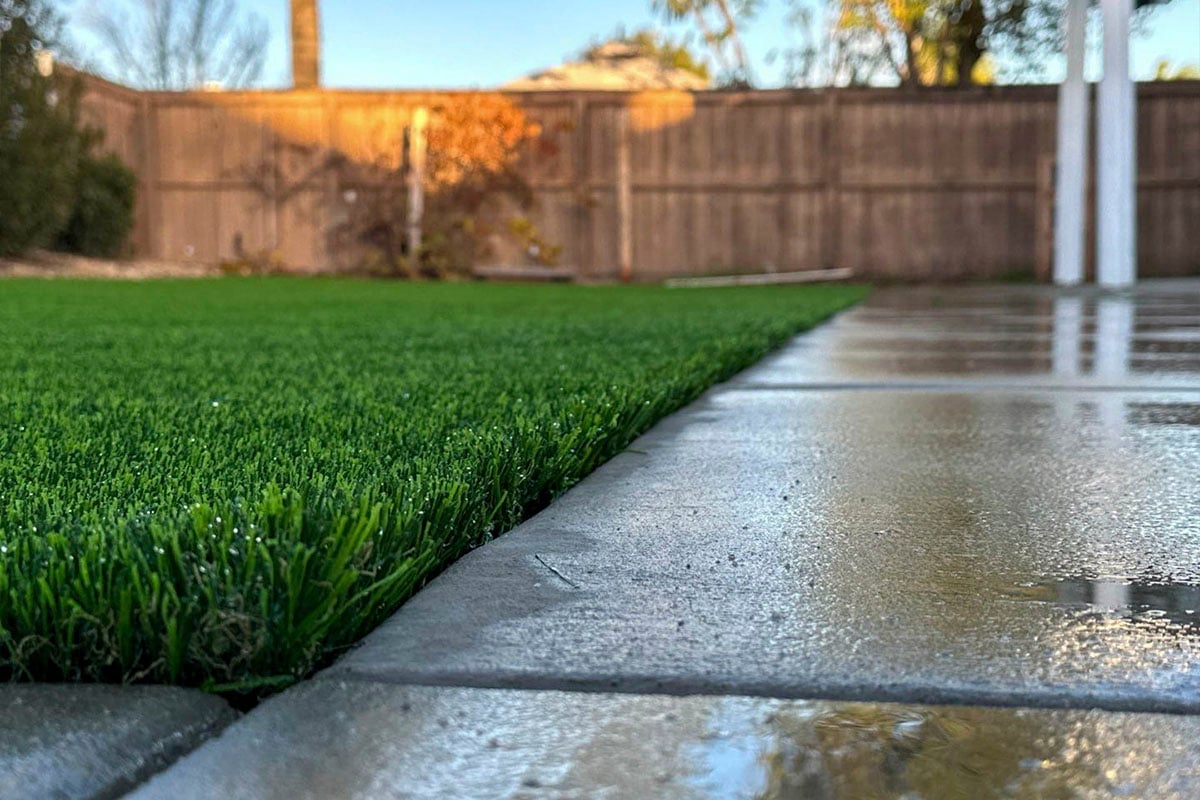 Details
The little things make a BIG difference! To accurately capture the look and feel of living grass, our engineers look to even the smallest details.


We include a layer of thatch in our products to mirror the layer of dead grass blades that accumulate at the base of living grass.
We also use multiple shades of green to reflect the natural variance found in traditional lawns.
Infills
A lot of people think all infill is just sand, and that sand is sand. This couldn't be further from the truth!
Different infills are made from a variety of materials. Different materials have the ability to absorb odors, reduce heat, and extend the life of your turf.
Here are five of the highest performing infills on the market:
Zeofill is a zeolite based infill. Its negatively charged molecular structure prevents the ammonium in pet waste from forming into a foul smelling gas. It's organically sourced and incorporates antimicrobial technology to prevent the growth of harmful molds and bacteria. Best of all, ZeoFill will keep your lawn up to 19 degrees cooler than silica sand infills!
Wonderfill uses a Zinc Omadine™ coating to prevent the growth of bacteria, mold, and mildew. Its unique shape makes it less abrasive than other infills.
Envirofill uses silicone dioxide to keep artificial lawns cool on hot summer days. It also features a highly-rounded quartz core that resists compaction, and is infused with Microban® antimicrobial protection, to prevent the growth of bacteria. This product is backed by a 16 year warranty!
Camofill is made with a specially sourced blend of multiple colors to give your lawn a pristine, natural look. Camofill uses Zinc Omadine™ to prevent the growth of bacteria, mold, and mildew.
Silica sand offers a pleasing aesthetic for yards with minimal foot traffic. It provides basic support, keeping blades stiff and upright, but lacks antimicrobial technology. For pets, kids, and heavy use, we recommend using a product with antimicrobial technology.
To find products that match your lifestyle talk to a turf expert!