Best 8 Questions To Ask Any Professional Artificial Grass Contractor / Installer In Temecula, Ca
Mar 07, 2023 | Artificial Grass for Homes, Turf Installation, Turf Maintenance and Care, artificial grass for landscaping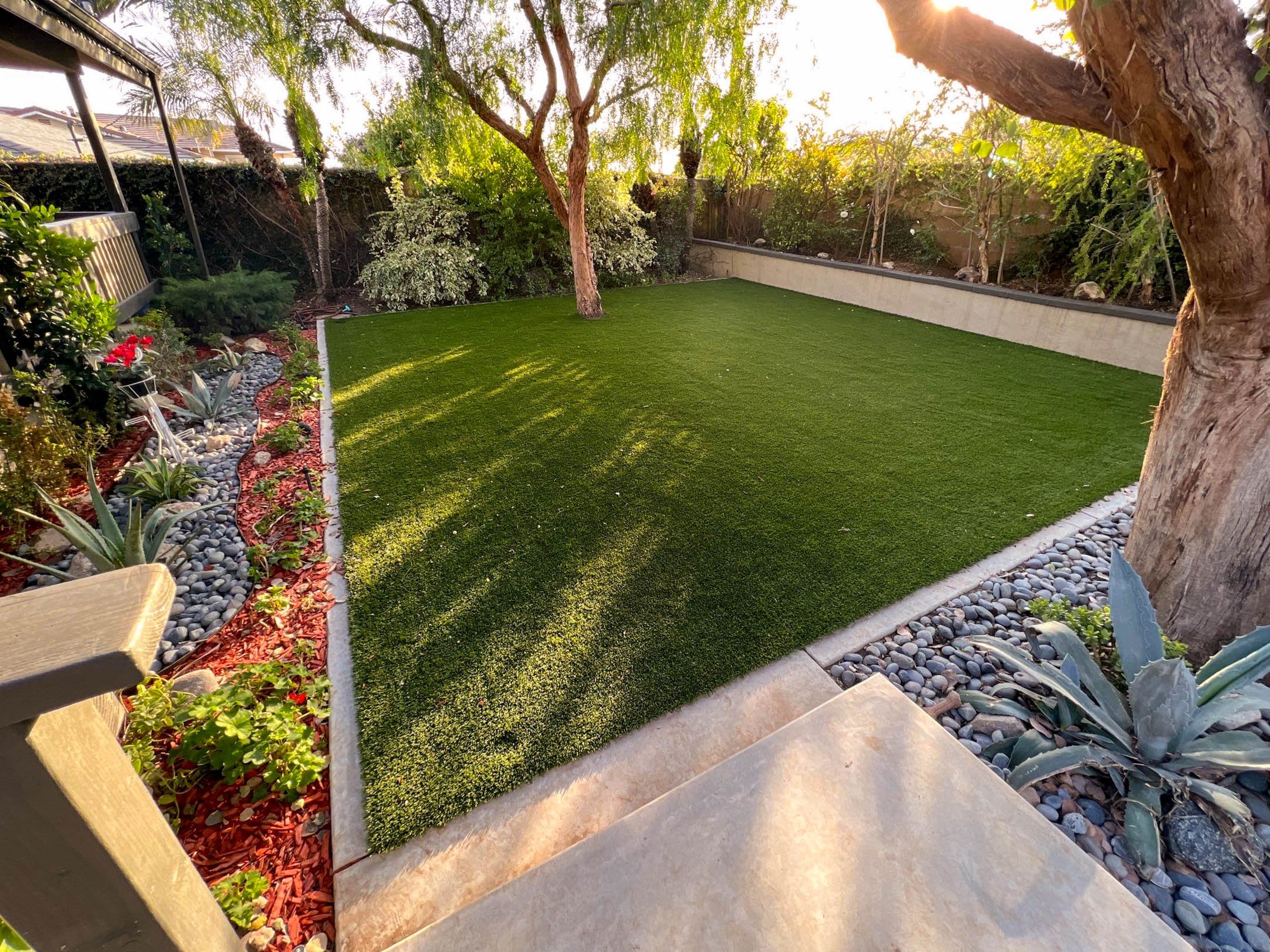 Artificial Grass offers many benefits to homeowners in the Temecula Valley. Water savings, almost no maintenance and curb appeal are all reasons why artificial grass installation has become increasingly popular. As more and more people choose synthetic turf to breathe new life into their properties, new installation companies are emerging because the demand is no high.
This makes it hard to tell experienced artificial grass contractors apart from the ones who fail to deliver the value they promise to. Save yourself the regret of not taking adequate measures before hiring artificial grass contractors with the help of our detailed Q&A guide.
Get familiar with the following 8 questions to ensure that the artificial grass installer you're hiring for your commercial or residential property in Temecula, California is up to the job. We've also included the ideal answers to judge the competency of each installer and choose the one that ticks off the most boxes. So let's get started!
Are you licensed, bonded, and insured to install artificial grass in the state of California?
Temecula, being one of the cities in California where demand for turf has skyrocketed, ensuring that your artificial grass contractor is licensed, bonded, and insured is a must. A license is proof that the grass installer in question has the necessary set of skills to perform their job efficiently and effectively.
Moreover, the required bonds and licenses confirm that the contractor understands the local codes and laws that must be considered to maintain the legal requirements of the state.
To put it simply, a license indicates professionalism. It is an excellent way for the public to differentiate a contractor who knows what he's doing from the one who has little know-how of the business. It's also a matter of liability. A non licensed contractor cant be held liable for a poor quality job. Lastly, a license protects the public by requiring perquisites like insurance from the contractor.
The state of California demands either the C-27 Landscaping Contractor's License or the D-12 Synthetic Products Contractor License. Both these licenses are issued by the CSLB, thereby confirming the merit of the contractors.
How does Biltright Turf answer this question?
We possess all the necessary licensing requirements demanded by California, in addition to the Home Depot Authorized Service Provider Certification. This is to maintain standards of reliability, so our customers know they are contracting someone they can trust for excellent completion of their tasks.
Check out this 5 star review from a happy Home Depot customer!
★★★★★
Great experience, and we are very happy with our new artificial grass - it is beautiful! Everyone from Biltright was wonderful!
- Luvdogs
Source: Home Depot
Do you carry any artificial grass industry-specific certifications?
Holding state-specific licenses are where most contractors draw the line. However, acquiring specific industry-related certifications means making an additional effort for the sake of customers. This testifies how deeply an artificial turf business cares for its craft. It further validates the integrity of an artificial turf contractor. It proves that they're willing to go to great lengths to offer their customers peace of mind.
How does Biltright Turf answer this question?
Consumer satisfaction has always been the number one priority for Biltright Turf, and we have further proved this by acquiring the Synthetic Turf Council Certification. The Synthetic Turf Council is the industry's leading authority on synthetic grass. They are a 501(c)6 non-profit trade association who sets industry guidelines and best practices for synthetic grass retailers and installers. In addition, it also signifies the unparalleled professionalism that Biltright Turf incorporates in every project it undertakes, whether commercial or residential.
Furthermore, this STC certificate is a testament of how we go above and beyond to keep up with industry guidelines and ethics and blend the best possible practices and synthetic products for outclass synthetic turf installation.
Do you provide a warranty on both your workmanship (installation) & the artificial grass products you install?
Artificial grass installation is a huge investment. If you're willing to spend that much money for a scenic backyard, putting green, or for a homely environment for your pets, you certainly want striking results that last a lifetime. But what guarantees that your synthetic turf will last that long?
This is where warranties come into consideration. A workmanship warranty guarantees the quality of the installation service. In contrast, a product warranty relates to the quality of the products used. A workmanship warranty will cover the cost of any installation you might encounter. Similarly, if a flaw arises with the performance or quality of the synthetic turf used by the contractor, their product warranty will cover all such costs. Warranties ensure that your grass will go the distance, and shows that your installer is committed to the quality of their work.
Providing both these types of warranties is a remarkable way of offering post-purchase services to you. Warranties ensure that your grass will go the distance, and shows that your installer is committed to the quality of their work. Another important point is that we've actually been in business longer than our workmanship guarantees. Some companies offer 100-year warranties, but that doesn't mean much if they're only a year old and might not be around for the entire length of their warranty.
How does Biltright Turf answer this question?
We offer an eminent workmanship warranty period of 3 years, commencing from the date the project achieves completion. In contrast, our product warranty period ranges up to 16 years, depending on the type of products used. Our warranty terms clearly state that warranty must be claimed within 30 days of unveiling the defects. Other important information regarding warranties can be found here.
Can you provide me references to artificial grass projects you have done in the Temecula, Ca, area?
When you're hiring an artificial grass contractor for your property, it's always advisable to look at previous projects in your area. This helps customers analyze how well a contractor can deal with the terrain in their specific city or town. So make sure you ask for evidence of past projects to avoid the possibility of hiring an inexperienced grass installer. This certifies the credibility, expertise, and craftsmanship of the contractor you're looking forward to hiring.
How does Biltright Turf answer this question?
We have a significant amount of completed projects under our belt in Temecula. Here at Biltright Turf, we have nothing to hide. For further comfort, we have provided detailed feedback of all our satisfied customers. Take a look at our customer reviews if you need any further validation of our services.
Can you provide examples of the type of project I am trying to complete?
Regardless of how good an artificial grass contractor claims to be, if they cannot provide substantial proof of having undertaken projects similar to yours, you may want to reconsider hiring them. A legitimate portfolio of triumphantly completed projects is the one thing customers need to look for to establish trust.
Contrastingly, these portfolios also enable customers to determine the range of projects an artificial turf contractor can undertake. This way, you can judge whether your project requirements can be met by a particular installer and the different variations the contractor has used in a project of the same kind. This not only helps you generate new ideas for your design, but you can also conveniently judge the dexterity of your contractors.
How does Biltright Turf answer this question?
Our project range starts from front yards, turf for pets, custom putting greens and expands to commercial projects, playgrounds, and sports fields. This is not just a claim! You can take a look at our diverse portfolio to see for yourselves the projects we've undertaken so far and whether it meets your project requirements.
Can you explain your seaming process, and will I see the seams?
One of the problems faced by a large majority of people after getting artificial grass installed at their property is the seams being clearly visible even from a distance. Properly seaming artificial grass is critical for a natural looking finish. The main reason why this problem arises is improper installation. When the seams and edges of the turf are not appropriately trimmed and secured in place, it results in an uneven surface that diminishes the appearance of the area.
It's vital to ask your contractor about their seaming process. The key is to find contractors who install turf so effectively that the chances of seams appearing are minimized, if not eliminated. This prevents all the above scenarios from occurring. A contractor who is unable to narrate their seaming process has a high chance of seaming incidents occurring in their work.
How does Biltright Turf answer this question?
Techniques when seaming artificial grass vary between contractors. This means there is no standard for an excellent seaming process. Biltright guarantees seams will not be visible, which no other installer or company offers, we stand behind that guarantee as the number one reason people choose us over competitors. We can also describe its seaming process to you from beginning to end. This is to ensure you have no doubts or second thoughts in any part of the installation process. Moreover, they are guaranteed that no seaming complication arises when contracting Biltright Turf for their projects.
Will I understand exactly what my Artificial Grass Installation project will cost when you provide your estimate or bid?
Getting an estimate for your artificial grass installation project is a vital component of the selection process. An ideal estimate includes a detailed account of the square footage of the project, the final cost of the project, a detailed drawing of the area with installation plans & an itemization of the services they are providing.
Get estimates from a couple of contractors before and compare the details provided by each of them. Be on your guard against estimates that are too low. While it may be tempting to assign your project to those contractors, there may be several hidden costs that may not have been mentioned in that estimate. The installer may mention these costs mid-installation, at which point it would be impossible to back out. In the end, the total cost may be higher than the costs of other contractors.
How does Biltright Turf answer this question?
Our experienced team has seen thousands of unique artificial grass installation scenarios. This has allowed us to provide homeowners with precise estimates. We provide an itemized detailed bid as well as a scaled digital plan that exactly matches the scope and proposal with site photos. Best of all, our estimates tell you everything you need to know before the project commences.
We offer several simple ways to obtain an artificial grass installation estimate from Biltright Turf.
Why should I hire you as my artificial grass contractor?
In our opinion, this is an incredible question to ask the turf contractor you're thinking about hiring. The major objective of this question is to give the company an opportunity to express its work ethic, what makes them stand out, and why they're better than other competitors in the market. This way, you can find a contractor whose values align with your principles. This is a great factor to include in your decision-making process.
How does Biltright Turf answer this question?
Our team takes care of everything from start to finish, so you don't have to lift a finger. Our services include products, surveying, financing, and installation. By consolidating so many services into one company, we've turned lengthy, confusing projects into simple transactions.
We stand behind our work! Every Biltright artificial grass installation is backed by extensive product and installation warranties. Biltright is an authorized Home Depot service provider, and trusted by homeowners across the country to provide top tier service in a quick and timely manner. They know that we can be trusted to get every project done right!
Book Your Appointment With Biltright Turf Today!
Residents of Temecula, Ca, what are you waiting for? Get connected with Biltright Turf today and book your free estimate appointment for the artificial grass installation.